Origin: CN(Origin)
Feature: Eco-Friendly
Feature: Thermal Insulation
Material: STAINLESS STEEL
Shape: Rectangle
START EATING HEALTHY WITH THE HEATED LUNCH BOX!
No more unhealthy and expensive fast food! Its time to start eating well and FEELING GREAT! Introducing the Self Heating Lunchbox, the convenient and portable electric lunchbox that lets you warm healthy meal no matter where you're at. Simply plug into an outlet, wait for it to get done warming up, and devour that delicious meal you just made!
BENEFITS OF THE HOT LUNCH BOX
Creates A Healthier Diet: Say goodbye to the chemicals and preservatives you regularly eat, you're in full control of your diet with this.
Saves You Time And Money: Rather than going out for fast food, eating a homemade meal will save you your time and money in the long run.
Self-Heating Technology: Heated lunch boxes technology allows you to warm your meals anywhere with a plug. Just wait 20 minutes to an hour (depending on how dense your meal is).
Convenient: No longer will you have to go out to eat during your lunch break. Take this heated lunchbox with you everywhere!
Car Use - Bento box can be charged by a 40W Car adapter. The electric lunch box is suitable for a driver who has to drive on the road for a long time.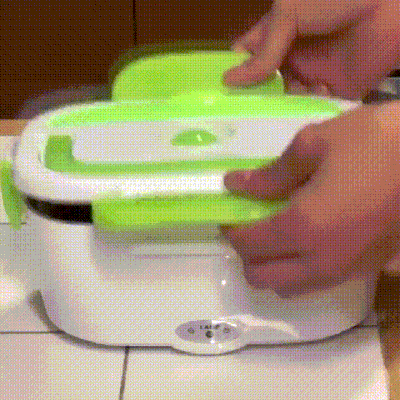 FEATURES OF THE PORTABLE FOOD WARMER
The self-regulating feature is designed to stabilize and maintain heat temperature. It maintains the temperature at around 70°F or 21°C
The insulated design allows the heated lunchbox to retain heat inside even when it's powered off. Its safety latches hold heat while closing the steam cover prevents hot steam from escaping.
Portable & lightweight. The electric lunchbox is travel-size and can be hand-carried or carried within bags and backpacks.
Size - 8.7 x 6.7 x 4.3 inches.
Package Includes:
1x Lid
1x Heat-Safe Spoon
1x Main Compartment
1x Side Compartment
1x Heating Base
1x Electrical Cord (US 110V / Vehicle 12V)
1x Instruction Manual
Loading
Loading